My grandma had a birthday recently and I wanted it to be really special. Sometimes it's hard to find the perfect gift for the person who has everything. After giving it some thought, I decided to create a
VoiceQuilt
for her.
VoiceQuilt
is a neat company that allows friends and family to record audio messages and memories that your loved one can keep and listen to again and again.
It's really user friendly and easy to do. First, I set up my user account at VoiceQuilt.com where I was given a toll free number and access code to share with friends and family. I recorded a greeting (much like a voicemail message) telling callers that this was for my grandma and asked that they please share a special memory or birthday wish.
Then my family pitched in to help share the phone number with everybody we could think of who'd want to wish my grandma well. We chose a 7-day time limit during which people could call. Folks started calling right away and each time a new message would get recorded, I was notified via email so I could listen to it and add it to my
VoiceQuilt
playlist.
By the time my grandma's birthday rolled around, we had nearly 60 recorded messages from friends and family who had called in with a greeting. Some people sang Happy Birthday, others shared a sweet memory or story and others just told her how much she meant to them. She was able to listen to the messages on her birthday and it was a very special experience.
Not only was this something my grandma really loved, but the folks at VoiceQuilt have agreed to give away a gift package to one lucky Southern Belle Simple reader. The package, which is valued at $50, includes 7 days of message recording time and an audio CD of your messages delivered in a special folio.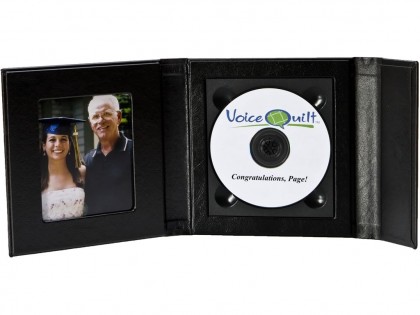 Maybe someone special in your life is getting ready to have a
birthday
or anniversary. This is also a wonderful gift for a graduation or retirement. There are tons of examples of
different messages on the VoiceQuilt site
if you need inspiration!
To enter the giveaway, just "Like"
VoiceQuilt on Facebook
and leave a comment here saying that you did. For an extra entry, you can follow
VoiceQuilt on Twitter
. The giveaway runs through Friday October 19 at 5 p.m. Best of luck and many thanks to VoiceQuilt for doing the giveaway!